Lucky Loo's Sweet Treats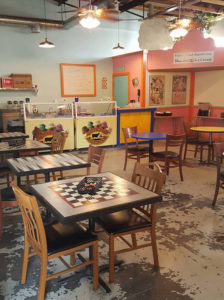 What's better than fried catfish and the best burgers around?  Ice Cream to top it off!  Lucky Loo's Sweet Treats is an Ice Cream Parlor housed right in the Lucky Duck Cafe.  Come visit our arcade-style parlor offering 16 flavors of Blue Bell ice cream, ice cream shakes, and sundaes.  Our hours are the same as the Lucky Duck.
Indulge a little after a long, hot summer day, celebrate a birthday or a milestone, gather the team after a hard fought game, or maybe make it a date night.  Whatever the occasion, stop on by for a little treat.